Parts for Ireland's automotive market
PARTS DIRECTORY
To add your business to the Directory contact Gladys Greer on 028 9078 3200 (RoI prefix 048) or email
gladysgreer@greerpublications.com
_____________________________________________________________________________________________________________________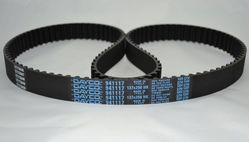 Dayco Launches New HK Belt

The Dayco range encompasses timing belts and kits, timing/water pump kits, chain kits, belt-in-oil kits and all the auxiliary drive related belts and components necessary to help technicians tackle any power transmission related challenge. Highlighting just two of these products – High Tenacity and the just released, HK belt – demonstrates how Dayco is developing the technology to improve the performance of individual components and subsequently the drive system as a whole, and then applying these developments to provide the aftermarket solutions.

Dayco High Tenacity
With the growth in the number of vehicles that are fitted with High Tenacity (HT) timing belts as the original equipment (OE) fitment, the trade is becoming increasingly familiar with the 'white' timing belt. Although technicians may not initially be aware, irrespective of the marque to which they are fitted, all OE HT belts are manufactured by Dayco.
It is Dayco that developed the twin spiralled glass-fibre cord technology, which is wound into the core of these belts to give them their incredible tensional strength and the patented PTFE/cotton fabric coating on their teeth, that reduces friction and pulley wear and gives the HT belt, its instantly recognisable appearance. Therefore, the only genuine like-for-like aftermarket replacement is a Dayco HT timing belt kit!
The peace-of-mind provided by fitting an HT timing belt/water pump kit can be further enhanced as technicians that fit these kits can extend the existing two-year warranty on the kit by another year and therefore provide their customers with a three-year warranty.

Dayco HK
Just as the constant evolution of engine design led to the development of new materials that are able to guarantee higher performance levels, like those used in the manufacture of Dayco HT belts, so recent advances that Dayco has made for its OE customers have raised the bar still higher.
Dayco HK belts encompass the highest level of technological development and feature a new tooth lining fabric and weave that incorporates aramid fibres. This combination achieves extremely high wear performance and greater adaptability to tooth geometry, which makes them particularly effective for high-stress transmission systems.These belts are now making their appearance in the aftermarket and are included in specific timing belt and water pump kit applications, with the HK suffix in their marking.
For more information regarding the OEM quality power transmission products in the Dayco range, please email: info.uk@dayco.com or visit: www.dayco.com
_____________________________________________________________________________________________________________________
---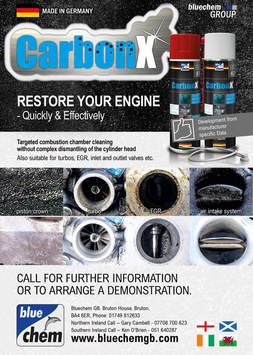 Bluechem /Duxback has the solution to EGR & Turbo issues
EGR & Turbo issues? Carbon builds up in the combustion area? Stripping out parts? Dismantling Engines? Contaminated valves? Bluechem /Duxback claim to have the solution.
Carbon X
was specifically developed in the Bluechem research centre in Germany for a global motor manufacturer and is now after lengthy testing available to the worldwide motor trade.
Carbon X
is a 2-component simple to use product that cleans and clears contamination quickly and thoroughly. (See the video at Bluechem GB).
Bluechem/Duxback has been distriibuted in Ireland for over 25 years. Their major brands of PowerMax, ProTec, Autpoprofi and the renowned Duxback glass sealant are the only products to have extensive OEM approval, including Toyota, Ford, Fiat, Hyundai, Mitsubishi, BMW, Audi, VW etc. Their 'core' products for cleaning Oil and Fuel systems have had full TUV testing. Their fuel products meet with VW-specific criteria on effect on O-rings and seals.
The majority of products are developed and manufactured in the Bluechem factory in Leutenberg Germany. Today the products are marketed in 99 countries around the world. In Ireland they are available both North and South from the Bluechem Team.
A video is currently available on our site, http://www.bluechemgb.com/
______________________________________________________________________________________________________________________
---